There are very few dishes that I am permitted to make this Thanksgiving due to the sommelier's presence at home instead of in a busy restaurant.  Trust me, I am grateful for the break. (Plus, he's a much better cook than I am!)  However, part of me still longs for the menu planning, the search for gorgeous new recipes, trends, and act of bringing beautiful foods to a harvest table.  Because cranberry sauce is a simple recipe that can be made days ahead, I grabbed the opportunity to add a new twist to our old favorite.  I know I am not one to share recipes, but since this one involves wine… and drinking wine… then why not?
If you have not had the occasion to make your own cranberry sauce before, you will find that homemade is more tart, less sweet, and more colorful that jelled canned sauce.  Gorgeous shades of red pop out from the bowl, screaming with life and vitality;  a beautiful addition to your Thanksgiving table.
This year, we are feeding ten adults and four children, so I am planning on twelve servings.  For this recipe, you will need a bottle of Brut Champagne or Sparkling Wine, an orange, sugar, vanilla, and cranberries.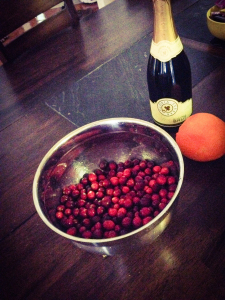 Because you only use a few cups of bubbly, I wanted to also choose a wine that I would also imbibe. Therefore, after a few minutes scanning grocery store shelves, I decided on Gloria Ferrer Sonoma Brut Sparkling Cuvee.  The winery sits in the Carneros Valley, just south of Sonoma and best known for Pinot Noir, and has been planting there since 1985. Gloria Ferrer was the first sparkling house in Carneros, as well as the first vineyard to plant Champagne clones.   For those who did not know, Champagne or sparkling wine can be made from a few different varietals:  Pinot Noir,  Chardonnay, or Pinot Meunier.  A Cuvee is a sparkling or Champagne that is made from a blend of these grapes, or even from different harvest years.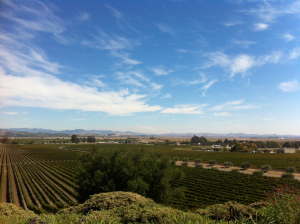 Made from primarily Pinot Noir, with a little Chardonnay, this Cuvee sings with aromas of pear, vanilla, and raspberry, while the flavor of toast balances out a creamy finish.  A gorgeous find at $16, and a notable sauce to add to your sauce.  Perfect on its own or with toasted bread and pate, cheese, and charcuterie.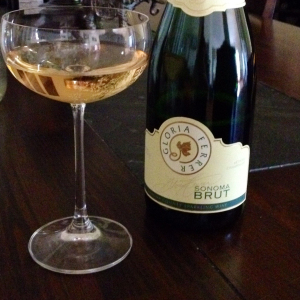 To start, add two cups of sparkling and two cups of sugar to a saucepan on medium high until the sugar dissolves.  Set to simmer.  In a separate mixing bowl, add 24 ounces washed cranberries, two teaspoons of vanilla, one tablespoon of orange zest, and one tablespoon juice of squeezed orange.  Once mixed,  add cranberry mixture to simmering sparkling.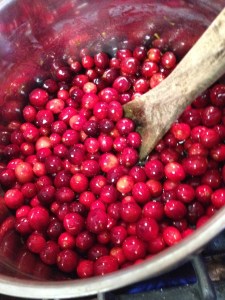 Allow cranberries to pop and sauce to thicken, while stirring occasionally.  Remove from heat and allow to cool.  Refrigerate for up to five days.  Freeze for up to two months.
There are other versions of cranberry sauce we have made with orange liqueur, marnier, or just plain with orange juice, however, I like this version made with sparkling wine the best.  The toast and vanilla flavors of the Cuvee blend beautifully with the zesty cranberry to create a tart, slightly sweet, and popping addition to your Thanksgiving table.   Something else to be grateful for.   Cheers.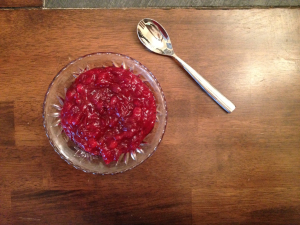 ******************************************************************************************************************************************************
Sparkling Cranberry Sauce
Ingredients:
2 cups sugar
2 cups Brut Champagne or Sparkling Wine
24 ounces cranberries
2 teaspoons vanilla
1 tablespoon orange zest
1 tablespoon juice from squeezed orange
Add sugar and sparkling wine to saucepan, set to medium high.   Once sugar dissolves, set to simmer.  In a separate bowl, mix remaining ingredients, making sure cranberries are well coated.   Add cranberry mixture to saucepan.  Allow berries to pop and sauce to thicken, stirring occasionally.   Remove from heat and allow to cool.  Refrigerate up to five days before serving.  Freeze for up to two months.