To say that I could sum up my blogging absence in a few paragraphs would be futile, for those who know me understand that nothing I write will ever be just a few paragraphs, nor a summary.  The truth is, I have had many inspirations flowing through my mind; mostly in my dreams, the words often form perfect sentences in my misty thoughts, only to be forgotten as soon as I wake.  Alas, here I am, with no pre work conjured for my own blog request.  So here it goes.
For those who did not realize, our sommfamily took a giant leap this Fall when I accepted a new position in Houston.  We packed up, hired realtor(s), enrolled in new early education schools, and found new lives.  As with any new venture, change can be exiting: exploring new cultures, learning new skills,  making attempting to make new friends.  Admittedly, it has been a lot of change at once.  We had become settled into our quaint San Antonio ways; surrounded by those who enjoyed us for who we were, our circle of friends had grown to include some of the most interesting people we have ever met.  We miss them terribly.  Looking back, I often have to remind myself that the Universe has granted us this unique opportunity in order to change lives.  Our lives. Our families lives.  Strangers lives.
My decision to take on new challenges prompted the sommelier to make changes as well.  As a result, he branched out with gusto into the wine retail world, where he has already turned heads with his detailed knowledge, and surpassed forecast sales with his easy-going style.  You really could say that the sommelier has made the transition quite nicely, at least here in the beginning.  Even he admits, though, as with any new position, it takes at least a year to grasp certain skills.  I am in awe of his evolution, and am moved to be inspired by the everyday.  In the meantime, he brings home all kinds of samples every night.  And because he represents such high quality portfolios, I don't mind one bit.  One of my favorites is a 2006 Amarone della Valpolicella Classico from Michele Castellani.
With the apparent changing of the seasons, Amarone is a perfect wine to have around for those cold, windy Texas nights.  A rich, Italian dry wine, it is known as an old world red, and very distinct.  The 2006 Castellani contains the classic Amarone notes of toast, dried fruit, and spice; an intense varietal, it is normally paired with heavy meats, wild game, and strong cheese.  For those who know our little sommfamily, how could we not love this wine?  We love stinky cheese!  Even better, this particular Castellani scored 93 points with Wine Spectator:
"Shows dried berry, spice and cigar box notes, with dried fruits. Full-bodied, with round, caressing tannins and lots of ripe fruit and toasty oak, yet balanced and juicy. Why wait? But patience will pay off. Best from 2011 through 2018…"
Find it at Specs for $52.
Sommbaby absolutely loves her new school and has literally exploded with an assortment of language skills we are still trying to decipher.  Still as sweet as ever, but on the verge of becoming terrible, we have elicited the use of my nephew's time out chair.  Unfortunately, I see a lot of myself, as well as the sommelier, instilled in her.  Mischievous.  Manipulative. Rugrat. Payback right?  Needless to say, I am still learning patience as my parenting skills are challenged on a daily basis.
(photo by the amazing Serina Sparkman)
So, what have I been up to? Why haven't I taken the time to carefully craft pen to paper, making my blogging dreams a reality?  Well… I packed, decluttered, repaired, listed, sold, and lovingly said goodbye to the first house we ever bought in less than 60 days.  In my dreams I wrote a letter to the new buyer, articulating how special our little cottage house was.  We fell in love in that house.  Married in that house.  Fought in that house, and subsequently made up in that house.  We brought a new life into that house, and raised our very special rugrat in that house.  It was our home.  I cried when we finally left.   How could I not?
We procured a rental home in Katy (after five applications, and renting sight unseen!) in less than 10 days, hired movers,  wanted to fire movers, but finally moved door to door;  traveled to California, Florida, then back to California; celebrated the sommelier's birthday, Thanksgiving, and the Coalson Christmas celebration.  We attended the Specs Vintage Virtuoso, which was quite the opportunity to drink mass amounts of deliciousness.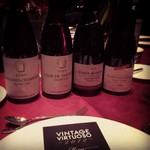 (just a few Grand Cru and Premier Cru Burgundy, 2009)
All this while working a new position, discussing neurological disease states, patient care, and caregiver concerns.  Driving 1000 miles a week, on average, and waiting in Houston traffic, in which you really need to add an hour to your time to get anywhere.  Admin like there's no tomorrow. So, let's just say I need a spa day.  And a friend or two.
It has been hard to move.  I admit it.  However, it is cleansing.  To rid your house, your home, your soul, of all the clutter that crowded in closets.  The cobwebs were so thick  with memories, I knew it was time to move on.  Speaking of, have you seen all the beautiful food that comes out of Houston?
No?   Oh, you will :)
Cheers.