Nothing screams with more vibrancy during the Holiday season than my yearning for bubbles.  The sommelier will call out from the kitchen, "well what are you in the mood for?" and I nearly fall out of my chair with a sparkly response of "bubbles."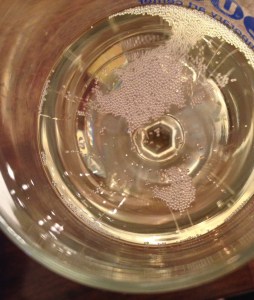 At our house, this almost always means Champagne, and since the sommelier has taken on this new role with Classified Wines over the past year, admittedly, we have been quite spoiled.  Time and time again, we have confessed to our love for André Clouet, a small family based producer based out of the Grand Cru village of Bouzy. This village (pronounced "Boozy") is especially known for still red wine made from Pinot Noir, partially due to the warmer conditions, and therefore, riper grapes. While most popular Champagnes are from the same domaine region of Reims, Bouzy stands out because of the quality of the Pinot Noir produced.
André Clouet's 20 acres of vineyards lie on the central slopes of Bouzy and Ambonnay, all Grand Cru sites in the Montagne de Reims.  The family is known for fastidiousness, and dates back to the 17th century, where the original ancestor who lived in the village house was a printer to Louis XV's royal Court at Versailles.  In 1911, the great-grandfather of Jean-Francois Clouet created an elaborate ancien regime label as homage to the printer, which was even once painted by Edouard Manet. This label now appears on the Andre Clouet 1911.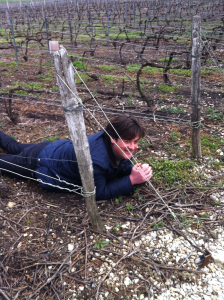 (picture taken by the sommelier April 2013.  pictured: Jean-Francois Clouet.)
There are three Clouet Champagnes that are recommended here, although there are a few more available through retail.  At any one time, you can say that all of them are my favorite.  Because they all are.
André Clouet Grand Cru Rose NV.  Mild salmon in color, with aromas of raspberries and strawberries, and mingled with drier, toasty complexity. Blended with 8% still Bouzy Rouge.  Excellent for pairing with all kinds of foods, especially charcuterie, shellfish, or cheeses.  Retails for $50.  (locally found at Specs)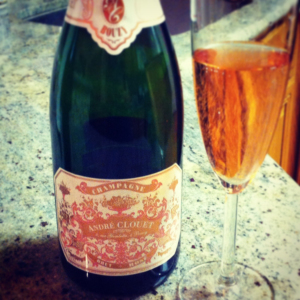 André Clouet Grand Reserve Brut NV.  100% Grand Cru estate-bottled Bouzy Pinot Noir aged six years, with aromas of strawberry and flavors of wheat and stone.   A touch of cream on the palate to complete the finish.  Pairs well with oysters, creamy pastas, poultry, and rich seafood.  Retails for $40.  (locally found at Specs)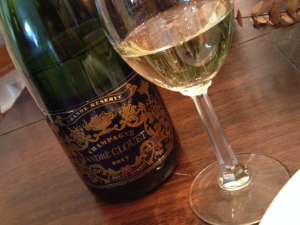 André Clouet 1911.  This Champagne reads like a novel.  Firstly, it is all also 100% Pinot Noir.  What makes this bottle so very special, however, is that it is a blend of the Clouet's ten best lieux-dits in Bouzy, and normally from three consecutive vintages, generally half from the most recent year, and a quarter each from the preceding two.  In addition, the bottles are always hand riddled; this means someone literally turns the bottles every few days.  For the most recent release of Clouet 1911, disgorged in 2012, the Grand Cru Cuvee is a Pinot Noir blend of 1995 (25%), 1996 (50%), and 1997 (25%).  The color is gold, and the aromas are blossomy, with hints of honeysuckle and peach.  Drinks marvelously with raw oysters or steamed shellfish.  The climax? Clouet only blends 1,911 bottles per production, so if you see it on a menu or shelf, grab it. It will soon be gone.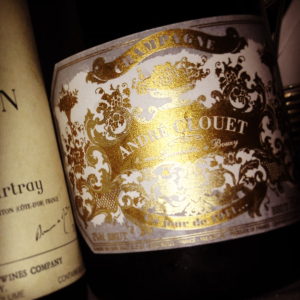 The Holidays are notorious for the clinking of glasses, sharing of joys, and wishing of cheer.  You might as well do it with a good glass of Champagne.  Cheers from our family to yours.  May you ring in the New Year with plenty of vibrant sparkle.
Be well. Live well. Drink well.