I first read about The Special Projects Social on Twitter. One of my good sources of information and fellow #foodiemama, Colleen Pence, tweeted an article from The San Antonio Express News divulging the delicious tales of the pop up restaurant concept, and I was immediately intrigued. Created by Tim McDiarmid of Tim the Girl Catering and Peter Zubiate of Zubiate Projects, the concept is this: bringing society together through local food and local artists. That's truly local. As is Pearl Farmer's Market and San Antonio artists. The monthly gatherings never take place at the same venue; from a tortilla factory to a trendy boutique to an artist home, the congregation feasts on an amazing variety of dishes created by a transplanted Chef. For those who have not yet heard of Tim McDiarmind, believe me, you will. A native of Canada, Tim spent many years in New York fostering her culinary talents before landing here in San Antonio. I recently had the opportunity to attend a Special Projects Social, and want to share the incredible experience.
Upon arrival, my date, Tara Burkholder of Mama2Aidan, and I were greeted with a beautiful Y vodka cocktail, mixed with roasted cumin, agave, soda, and fresh lime. The kicker was the candied Serrano pepper that infused the liquid with spicy flair. As my favorite bartender Olaf would say, you could tell this drink was inspired by a Chef. In fact, it was hard not to ask for more than one.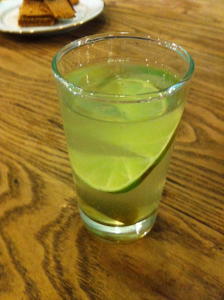 The setting for this past month's social, Aquarius Boutique, was very well lit with bright blue paint; fashionably trendy clothing, jewelry, and shoes lined the walls extending to the storerooms. This month's social not only included our fabulous meal, but a $50 gift certificate to spend in the boutique itself, so my eyes wandered over the items with procuring intent, focusing on flowy blouses and tunics.
The tables were set with unique settings, and instantly stole my attention. Local artist Katie Pell handmade each plate, with 1970s inspired chalk drawings assigned to each one. Okay, so not only am I sitting in a chic boutique surrounded by lovely people, but I also get to eat from a stylish plate? Lovely. The best part? I get to take it home. No joke. And the night hasn't even started yet.
First on the menu? An appetizer plate, meant for grazing, and loaded with dried cherries, soft cheese with wild Guajillo honey, charcuterie, roasted pecans, manchego, citrus gelee, and a side of Farinata. Okay, I have to admit, I had to look this one up. Originally from Genoa, Farinata is basically unleavened bread made from chickpeas. And delicious.
After finding a seat, slurping the last of my arrival cocktail, and mingling with San Antonio society for a few minutes, our first course arrived: Lacinato Kale with shaved Reggiano cheese. The greens were sliced thin, and possessed a hint of lemon. Served cold, this appetizer was crisp, dark, and tasted fresh from the earth. Gorgeous. Needless to say, Obviously, I was looking forward to the rest of our dining experience.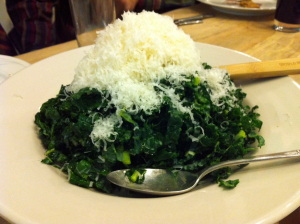 Now I have to admit that beets have been all the rage lately. From Top Chef to the Food Network, to even our locals like Biga and Sandbar, beets are everywhere. However, I have not yet encountered the unique beet stained egg, which were tossed with root vegetables, raddiccio, baby greens, radishes, and herbs. If it couldn't have sounded better, try this: warm bacon vinaigrette. The bacon actually brought out the flavors of the salad, and provided a nice contrast to the flavors of the greens. For those who know me, may it be no surprise that I actually bought my own wine pairing. I will say that The Special Projects Social did provide adequate table wine; however, the 2006 Heredad Soliterra Priorat complemented the beets perfectly, and paired nicely with what was to come.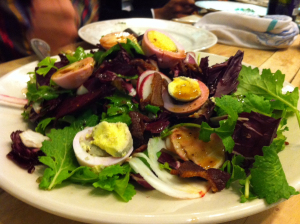 Did I mention that I once had coffee with Chef Tim? It was really just an intrusion on her date with my friend Emily Stringer of DefiningDelicious, but I do remember quite clearly how she mentioned that she was formerly known for her vegetarian dishes. Well, based on the next compilation, I don't doubt that. The winter vegetable stew over cous cous was loaded with sweet potato, cauliflower, beans, and greens. Even though I am a staunch meat eater, I heavily enjoyed this dish.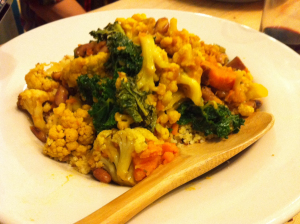 So here we were, already full of local fresh vegetables sprinkled with cous cous, bacon vinaigrette, beets, cheese, and candied Serrano peppers. Could it get any better? Um… yes. The piece de resistance, the cream of the crop, the best plate of the night: stracotto over creamy polenta.
What is stracotto? I know, I know, I also had to look this up. Basically, stracotto is an Italian pot roast. Depending on the origin, it could comprise of beef chuck roast, but honestly I don't think it lasted long enough on my plate for me to tell. When asked, Chef Tim indicated that she was up all hours of the night preparing. And you could tell: the meat literally melted in my mouth, and combined with the perfectly cooked polenta, was extraordinary. And such care was taken with the polenta. When eaten alone, the butter lingered in your mouth.
After all this, we were served both a dessert cocktail and dessert. Can you imagine how full we were? The cocktail: Y vodka, cardomon rose syrup, blood orange, and rose sugar.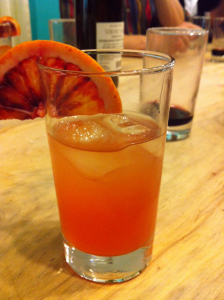 I will admit, not as memorable as the arrival cocktail, but I had other things on my mind: cake. And there were two; a Banana Pineapple Cake with Dulce Leche Frosting and a Guava Cream Cake. Let me announce this: the banana pineapple cake was one of the best I've had. Paired beautifully with a 2001 Trimbach Gewurztraminer, the sweetness of the wine allowed the pineapple to shine through the airy frosting. It was the perfect ending.
Everyone at our table was so impressed with Chef Tim and the Special Projects Social in general. I imagine we will be hearing a lot more about her in the near future. In fact, my date and I were lucky enough to sit next to Tracy Rios, food writer for Formo Magazine, which is printing a review of this very meal in their March issue. Let's just say I know it won't be the last. I am sure that we will see the likes of Chef Tim around for a long time to come.