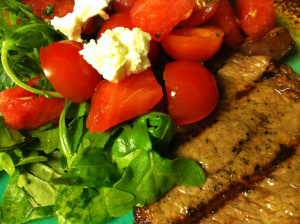 It's like a Friday night.   Now that I am back to a regular schedule, I can rely on my inner instincts during the week.  A glass of 2008 Bouchaine Chardonnay sits on the '60s inspired side table next to my chair, Rheagan is sleeping, and I am watching yet another high quality film.  I don't know why I have been so obsessed with Northern California lately.  Bottleshock last week, and then a taste of Oz & James this past weekend.  Now I am watching Sideways.  I love Paul Giamatti, and I have so much more appreciation for the movie now that I know a little more about wine.  I haven't watched it in forever, and it has dawned on me that I bought it out of trendiness, long before I met my sommelier.  Since then, I have been rightfully schooled in the winemaking process, and in the taste.
I was nervous to try the Bouchaine.  Every time I remember drinking chardonnay, it has been laden with oaks, heavy, or buttery.  I remember when I used to drink Clos Du Bois and think I was something special; although it went well with lobster, I tired of the taste.  I have avoided all chardonnay since.  I like the Bouichane, though.  It's light and acidic.  With hints of lemon and apple, it blended well with my zesty arugula.  I do have to give the sommelier credit.  He knows I hate chardonnay, yet he brought home a clear, honey colored vintage that makes me change my mind.  I will now add this particular wine to my list of sauvignon blancs, chenin blancs, voigners, and rieslings.
Dinner was a success.  I chopped up some ripe watermelon, halved cherry tomatoes, and paired them with arugula, baby spring greens, and goat cheese.  A steak rounded out my meal.  A gleaming success, I must say. I can't remember the last time I had steak, maybe a month.  Here in Texas, in the midst of grilling season, that time period is unthinkable. However, the wine complemented the greens and watermelon perfectly, and I just happened to stumble upon it.  Goes to show, you should always rely on your instincts.