I think there is nothing worse than that "hospital" smell. In our case, it was a mixture of sanitizer, blood, and urine, all soaked into the air, coupled with a lunch tray of bland macaroni and cheese, applesauce, and microwaved cheeseburger. Of course, seeing your child, your toddler, your baby, hooked up to catheters and IVs and monitors is no task for the faint of heart. This was our life last week.
For those who have known our sommfamily, you know that from time to time we are saddled with long ER visits, late night pharmacies, and specialists. It started when Sommbaby was just five months old. She was diagnosed with bilateral vesicoureteral reflux (commonly known as kidney reflux), which occurs in 2.2% of girls, and commonly results in urinary tract and kidney infections. Unfortunately, no amount of nutrition, vitamins, or alternative therapy could reverse or treat her condition. A physical malfunction, she would either grow out of it, or would require surgery to repair the deformity.
To be clear, this condition is not something that limits Sommbaby in any way. It is not a cardiac diagnosis which requires open heart surgery, which I can't even imagine; nor is it a neurological like epilepsy or autism, which are lifetime illnesses. Regardless of your own child's condition, however, you find yourself their strongest advocate. Sommbaby has been on some form of daily prophylaxis antibiotics for well over 18 months now. That in itself worries me for her future, as overmedication results in hybrid bacteria and strong resistance to treatments. So, after several infectious breakthroughs and evidence of kidney scarring, our sommfamily opted for open surgery.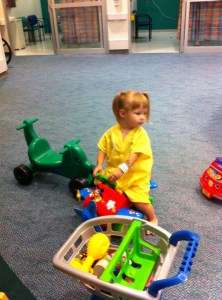 We were very lucky to have been in the hands of Texas Children's Hospital, whose internationally renowned doctors and array of child and family specialists helped us through every encounter. Rhea was even taken back to the OR in her own Little Tykes car, being pushed by her anesthesiologist, and comforted with an iPad viewing of Curious George, held up by her child life specialist. The three-hour surgery went beautifully, so the doctor said; I barely heard the words as my heart was pounding, my ears incapable of detecting the faintest sound, my mind busy imagining the worst scenario possible. It took almost an hour, for me to hold my baby in my arms, for me to realize that everything was okay. I could breathe again. We spent the next two nights, as a family, in a patient room. Anyone who has ever spent the night in a hospital knows you don't really sleep, especially with toddler patients, who are constantly being awoken for vital checks, medications, and the frequent "mommy" cuddles. The sommelier never left her side, not even to get coffee, until we were certain she would be discharged. He made her laugh and provided tickles, even when she wasn't up to it. Therefore, I was the one who made trips to Starbucks, cafeterias, and found a sushi restaurant that would deliver to our room.
If I would have been braver, I would have taken the short 5 minute drive down to Haven, a farm to table restaurant located between Upper Kirby and Rice Village, and ordered a pulled pork sandwich. Served with a cider slaw and homemade potato crisps, the pork complements Houston's own St Arnolds Elissa IPA beautifully. To top it off, I have always added a fried egg to my sandwich; as the gooey yolk swarmed my plate, I dipped my potato chip into the goodness and let my eyes close in pleasure. Heaven.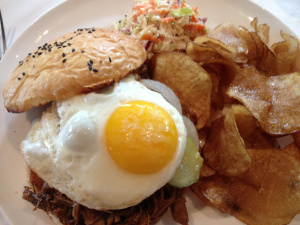 Another favorite is whatever they are doing with oysters at the time. I've had two wonderful dishes: fried oyster atop a buttermilk biscuit with andouille sausage gravy and a fried oyster tostada. Both are perfect with fun whites like a French Grenache a Spanish Albarino, both available on list for less than $40.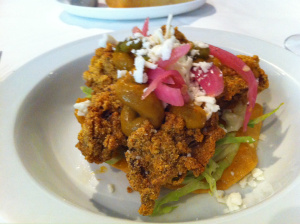 Definitely worth the trip, Haven champions: Texas agriculture, supporting farms from all around the state; sustainability not only through food, but through décor, such as reclaimed woods; and environmentally friendly practices, such as equipment purchases. No wonder it has various accolades and awards, to include Texas Monthly's 2011 "Second Best New Restaurant in Texas" and one of Southern Living's 2011 "5 best Restaurants of the South". Yum.
But, let's face it; I barely went across the street last week to get a vanilla skinny latte, extra shot. Yes, you read that correctly, three shots of espresso. Because I deserved it. And now that we have been discharged, are home, and Sommbaby is showing us that nothing fazes her, I deserve something more.
Like… an affordable Spanish red, such Juan Gil's Honoro Vera Garnacha 2011: an earthy, spicy vintage with notes of licorice and dark berry. A very dark ruby-red color, the Garnacha is the second most planted grape in Spain, is resistant to wind and drought, and can have alcohol content in excess of 15%. One of the things I love about the Jaun Gil portfolio of wines is that it is family owned. The first generations built the first winery in 1916 amongst the Spanish countryside, and now, four generations later, Juan Gil is intertwining the traditional wine making process with technological advances, perfecting practices and providing the world with a variety of wines we love.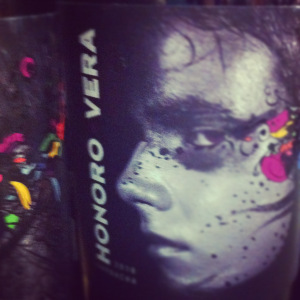 The Honoro Vera Garnacha is best with a paella, pasta, cold meats, or goat cheeses. It is versatile, spicy, warm, and very drinkable, and can not only be found on my personal wine rack, but at HEB for $7. (yes you read that correctly… $7…go get some!)
I don't know about you, but I would much rather smell blackberry and dirty earth than antiseptic fumes from this Sommbaby's hospital room. And now that we are finally home, I can get back to cooking instead of eating what's available. So here's a clink to you and yours, wishing all a wonderful beginning to a safe summer.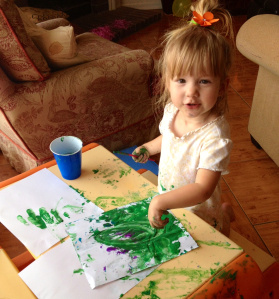 Cheers to good health and good wine.