The best thing about our transitory home outside of Houston is definitely the brick fireplace.  During these most recent icepocalypse episodes, we have kept a consistent blaze fueled with natural woods of Texas, and when we watched as the last log was kindling, we even resorted to burning the mesquite and oak chips meant for the barbeque.  There is something about the smell of smoke.  It drives me crazy.  Not like my brain is exploding, or my eyes are burning…. but more like my loins are on fire, I want to strip your clothes off crazy.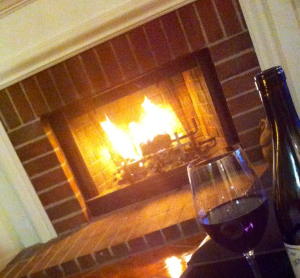 In the summertime, like a true Texan, the sommelier arises before dawn to start the smoker; it does not hurt that his first job was in a Mikeska's kitchen, or that he blends his own rub, and serves his own sauce.  To make things even more ridiculous, no BBQ meal is complete in our household without the sommelier's famous garlic country potatoes.  They have like three sticks of butter.  At least.  Oh, and then ranch beans.  It's all  sooo good.  One thing's for sure: we are some spoiled ladies up in this house.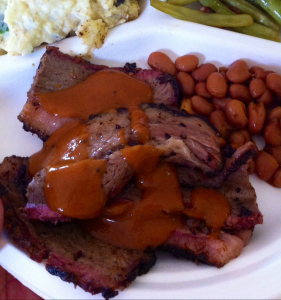 Here is the thing… when the sommelier is finished smoking meats all day, covered in thick reams of smoldering aromas, sweaty with time-calculating perspiration and ash… I want to lock him in a room with me.  Very French-like.  Except we always have company, so I just save his t-shirt to sniff later. Kind of creepy, yes, but we are married so I figure it is pretty respectable.
Now it is mid-winter, in the aftermath of a second Houston icepocalypse, and we are holed up indoors, with an everlasting inferno radiating into our living room.  The woody smells remind me of warmer times, while my palette yearns for a complementary vintage, filled with black raspberry and spice, silky tannins, and a somewhat smoky nose.  With a blend of Grenache, Mourvedre, and Syrah, the Southern Rhone's Gigondas meets this need perfectly.  In age, these wines gain more notes of forest floor, tobacco, meats, and truffle.  When young, these wines are fruity, bright, hot, and hard on the mouth.  It has been suggested to drink Gigondas that is at least four to six years old to fully enjoy the experience, even waiting up to eight or ten years if you are sure of the quality of vintner.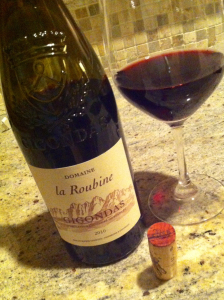 The 2010 Domaine La Roubine Gigondas falls right into the middle, with immediate notes of dark fruit; when decanted,  the rustic aromas flow freely, with sleek tannins and patches of smoke.  Perfect for our roaring fire.   And French.  While this particular wine is not available in stores, there are several different labels on hand at Specs, Richards, and Houston Wine Merchant.  (Read:  You'll most likely have to go to a wine store for this varietal.)  Regardless of how you decide to spend your weathered days, do them well, and with smoky fervor.
Eat Well. Drink Well.  Cheers.