The sommelier, sommbaby, and I recently had the opportunity to be on the receiving end of a fantastic tasting menu by Chef David Gilbert of Sustenio.  A Dallas transplant, Chef Gilbert is making his name well-known in the San Antonio scene, gaining ground with such groups as the San Antonio Chef's Coalition.  Every plate was a beautiful work of art, from the smoking bison to the towered escolar, even the dinnerware was unique.  Enjoy the view into our dining journey.
amuse bouche: scallop with chili and lime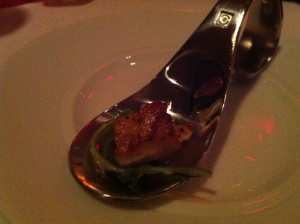 first course: ceviche
second course: beet salad with goat cheese and cardamom coffee
(I have to admit this looked so delicious I ate most of it before capturing the plate)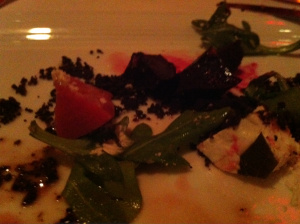 third course: scallop with beef tongue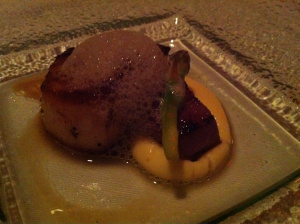 fourth course: escolar with banana and pomegranate garnish
(the escolar was served in a towering glass, and then fell into place)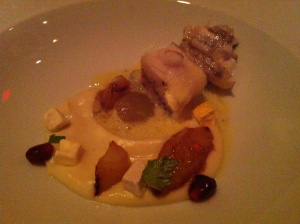 fifth course: sous vide bison short rib
(the entire dish was served smothered in a mesquite smoke-filled glass container)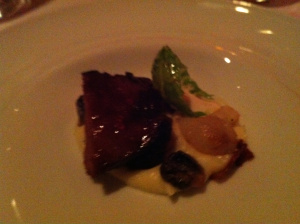 sixth course: Wyoming lamb with Greek yogurt and honeycomb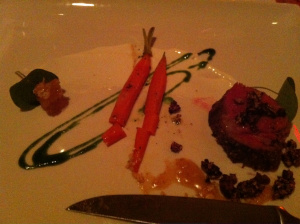 dessert: trio of sorbet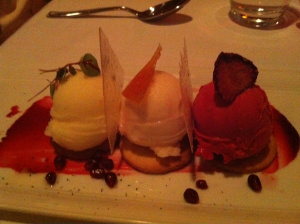 Hungry? Go there. The tasting menu is worth every penny.  Period.