The last time I was in the hot and steamy state to the East, it was our honeymoon. It was a few years after Katrina, and the Easy city had still not even begun to recover from the
loss. I had spent quite some time there in my mid twenties, and had developed a taste for New Orleans. The old adage was still there; beignets in Jackson Square, chicory coffee, oyster po-boys, the stench of Bourbon Street. We walked along the French Quarter, tasting the spring jasmine and breathing the sounds of the quiet morning. We dined at Bayona, among others. The sommelier and I even took the streetcar down to see the Rebirth Brass Band on the other side of Tulane. Our trip was just a few days, but long enough to create a lasting memory.
Recently, I have been on the sommelier to dine at Luke on the San Antonio Riverwalk.
Here the restaurant had been open for months, and I had still to taste the flavors of a once beloved town. This past Sunday, I was introduced.
The hotel in which Luke is located is very Texan. Stone façade and big leather chairs aside, I knew that I was in a tourist destination. As we walked through the doorway to the restaurant, however, I was transported. It being Sunday brunch, a classic three piece band played NOLA inspired tunes. When I closed my eyes, I found myself in a classic Creole courtyard, surrounded by honeysuckle and jasmine, listening to the trombone and sipping on a bloody mary. When I opened my eyes once again, I was sitting at a small table in the
center of the restaurant with a gruner veltliner in hand. I looked up to discover a series of old southern style fans, run on a pulley system. I could picture the old men with seersucker and bowties slurping their midday rum punch; unfortunately, our crowd was more into Shiner beer.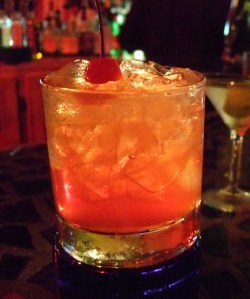 Right away I ordered the meat pies with tomato sauce, although the pate and cold liver appetizer was very tempting. The food was delivered very promptly, our servers all dressed in classic NOLA white jackets and black pants. The ground beef had traces of onions, peppers, garlic, and oil, and I could taste the classic Natchitoches recipe in our San Antonio surroundings. The pastry itself was delicious, although may have benefited from a crisper skin. The tomato sauce, as it was called on the menu, was reminiscent of a Creole style remoulade, and was a perfect complement.
The sommelier and I both ordered soup, he the gumbo and I the crab bisque. The gumbo was dark and dirty, swimming with flavor, and well prepared. The bisque was thin, a bit watery, but bursting with fresh crab. What it lacked in seasoning, it made up in meatiness.
I had trouble deciding which entrée to order, as I am a big fan of both Cajun and French fare. I asked our server her opinion, and she pointed me in the direction of the Croque
Monsieur with fried egg. I went with her suggestion, although after pondering the enormity of the sandwich, I later regretted not ordering the fried oyster salad.
The sommelier dined on braised pork shoulder with rice and beautifully poached eggs, and I found myself becoming jealous of his forkfuls of brunch goodness. Although the sandwich was flavorful and well prepared, it was still just a sandwich, and I admit that I
should have ordered something more… original… more.. classic.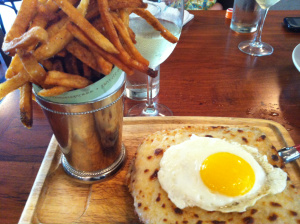 One area on which the sommelier and I both agreed was the disappointing service. Our server was very relaxed, with a laissez faire attitude, complete with thumbs up and
various displays of "awesome". In the fresh white jacket, she did not belong in the confines of a proper front of house.
We topped off our meal with Nicaraguan coffee and a classic bread pudding. The pecans were slightly overwhelming, but the butter sauce danced in tandem with the soft, warm bread. The vanilla bean ice cream rounded out the flavor profile. At one point, my attention was diverted to a passing fresh cake with local peaches, and I once again began
to look forward to new order choices. Next time, I tell myself, I will order a bloody mary, raw oysters, and ….were there specials? I can only imagine what goodness the dinner
menu has to offer and am looking forward to every new food memory to come. I am grateful to Chef John Besh for bringing a taste of New Orleans here to the Alamo City, and to Chef Steve McHugh for providing such tasty fare. It may not be the French Quarter or a garden patio, but the view from Luke is as slow and sweet.