Let's face it, extreme weather has affected the entire United States the past few years. Everything from droughts to flooding, tornadoes to nor'easters has dominated the weather news. This was no different in 2010, where the cooler weather in the Willamette Valley forced vintners into a compressed harvest schedule, with very late blooms, and rainy picking conditions.  This is what winemakers call a "cool vintage."  In regions with traditional cooler climates and shorter growing seasons, like the Northwest, early ripening varieties like Pinot Noirs thrive.   Winemakers got aggressive early, and thinned leaves, then fruits, several times over.  Most wineries on average had 100 days post bloom for the flavors to develop, which produced less opulent fruit and low alcohols, lower pH, and higher acidity.
(photo credit @TEXSOM, twitpic)
Welcome to the 2010 Oregon Pinot Noir.  According to Jerry D. Murray, Winemaker at Vanduzer Vineyards, this vintage is the prime example of what a Oregon wine should be.   Specifically, "…elegant, structured, layered, nuanced, not big.."  In fact, this vintage is so ideal that TEXSOM (the largest sommelier conference in the US) dedicated a whole session to it.  Nate Ready and Fred Dame, Master Sommeliers, hailed the 2010 Oregon Pinot not only as a great vintage, but very food friendly as well, pairing with mostly anything on the menu.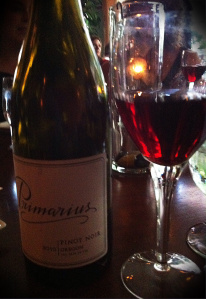 Where can you find a good, ready to drink wine, right now?  Honestly, restaurants are your best bet.  In fact, at our last Foodiemamas outing, we found a 2010 Oregon Primarius Pinot at Biga on the Banks, and while admittedly very light, paired well with both salmon and beef short rib.  My plan is to start scanning  the aisles of Gabriels, Joe Saglimbeni's, or HEB for incoming varietals.  The sommelier suggests the 2010 Balcolmbe Vineyard Pinot from Patricia Green Cellars, which will set you back about $36, and which you can buy directly online from the winemaker.  In addition, start asking your local retailers to stock such wines as Eyrie Vineyards Dundee Hills or Brickhouse "Cuvee du Tonneliere."  In due time, we will see some amazing wine come onto our local shelves.
Be ready!  Cheers!