we arrived with a soft landing. not necessarily a queens landing- maybe a kings landing?- still… a cotton candy drop into a confectionary land of dreams. 
after a short stop at our seaside resort and a bus ride into old town, we stood at Pile Square. 
tucked between the outer wall of Dubrovnik and Fort Lovrijenac, the fountain laden meeting place provides for many scenic moments. and tourists. lots of tourists.  
we followed the crowd through the small medieval gate and slowly began to see why so many flocked to this space.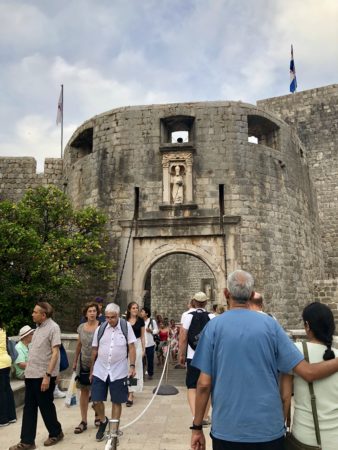 large fountains and churches flanked every square.
white stone worn to gloss paved the stradun.  
opulence abounds.  
in awe of the magnitude of history we were experiencing, the sommelier and I made a small lap through the city center, then sat to take a bite to eat.
influenced mostly by Greeks from the South and Venetians to the West, Dalmatian cuisine can best be described as Mediterranean.  fresh fish, salad, vegetables, and light pastas. 
beyond my glass of rose and fresh anchovies my eyes laid upon Fort Lovrijenac, Dubrovnik's "Gibraltar" and built in the 11th Century in just three months to deter Venetian rule.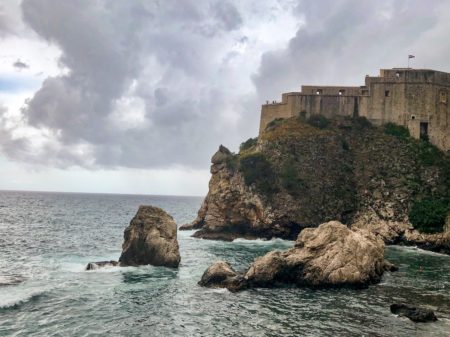 our first impression of Dubrovnik is one of vast beauty.  the summer months bringing such a variety of tourists here, the sommelier and I often wonder what the real culture of the city is like.  
one thing is for certain. we are only 55 minutes away from the capital, yet many millions of miles away from her culture. Dalmatians of are a different mindset, yet still Croatian.  
back to our lapad beach resort, where we will spend the next few days exploring more of this ancient city, in our own, unique opulence.  
živjeli!