I have been reminiscing about my roots lately.  Where I come from, where I have been.  Where I am going.
I am at least a fifth generation Texan, on my father's side.  My family hails from Southern Texas, the likes of Matagorda Bay, Vanderbilt, and Edna. I have many memories of the house on Yuba Dam Street.  Stepping onto the concrete steps, the sweet stench of humidity, dust, sweat, and stale vanilla wafers always enveloped me as I crossed the threshold.  Newspapers of weeks and months, piled high on the surrounding polyester couches, ruffled in wake of an oscillating fan.  I would stare at my Meemaw.
She sat directly in front of us, perpendicular, watching a small antenna television across the room.  TV trays held Soap Opera Guides, cups of water, and plates of crumbs from the day. Gripping her cane in one hand, and rocking back and forth to gain traction with the other, she would eventually grunt, and in a woof of air, would stand and walk over to me.  I was always aware of her ailments, yet Meemaw nevertheless hugged me tight.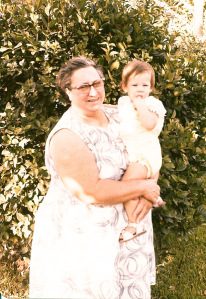 I was named for her husband, a blend of alcoholism and emotional anger, sweetness, and cruel frailty.  I was also born on his birthday, a few years after his death, and must have been a consistent reminder of her difficult life with him, although she never showed it.  Meemaw loved all of her grandchildren a great deal.  Soon after we would arrive for a weekend, a closet would open, and presents commenced: a crocheted pink afghan for my dolls, grocery store perfumes, and clearance costume jewelry.  Looking back, it is easy to see that my grandmother was a hoarder, but I expect nothing less from those raised in the Depression, with memories of belly aches and longing.  Her bedroom was lined with bookcases, and filled with newspapers, sheets, dusty antique bottles, collectible ceramics, picture frames, and SAS shoes.
Meemaw's extra bedrooms were playgrounds for little girls, with plastic dolls, blankets, cribs, and figurines from the 1950s.  At night, we would sleep with the windows open, as to be awakened by chirping birds and to be stifled by the humid heat.  The only air conditioners were in her bedroom and the living room.  My love of pimento cheese stemmed from her kitchen, as well as SPAM, vegetable soup, and store bought shortbread cookies.  She bought thick sliced ham, and Velveeta block cheese, and we would eat white bread sandwiches with mustard while watching General Hospital or Hee Haw.  Meemaw took me to watch The Best Little Whorehouse in Texas for the first time.
There were several buildings outside, one where she kept canned goods like pickles, peaches, and beans.  Another my Papa used when he was alive, and contained his carpentry tools, old hammers and saws, and I had heard at one time even a cow.  Some local thug took the liberty of tagging it, but I still dream of my namesake there.  I often see him, a skinny image, watching over me at night, in a stingy brim hat, in gray pants and a white shirt.  Maybe I am dreaming….
We moved away when I was 13, and returned when I was 17. Meemaw died that summer, just a few weeks after we returned home to Texas.  We had only visited one time that year.  While I never got to say goodbye, my heart still holds much love for all she was. My daughter now uses that pink afghan blanket for her dolls.
I drove by the house on Yuba Dam Street recently.  The grain elevator is still in working order at the end of the road.  While a lot of structures are in ruins, her house still remains occupied… although I imagine barely standing.  This Spring I tip my glass to Meemaw, one who never drank, who bore the weight of an alcoholic husband, who lived on the brink of poverty, and who raised many children, including my father, who carved his way out of the tiny town of Edna to accomplish much more than many could imagine.
Houston's Karbach Brewery Company prides itself in training in German style, which is perfect; my Meemaw was originally a Frenzel, and often times her smashed potatoes found themselves intertwined with sauerkraut and sausage.  The Rodeo Clown Double IPA is a strong one… just like her.  It has 9.5% ABV, an intense, hop flavor, thick head, and aromas of citrus and orange peel.  Perfect for a gal like me.  Available at HEB for $9.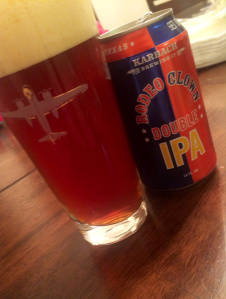 Here's to remembering our roots.  And our branches.  Go Local. Go Texan. Cheers.
*****************************************************************************************************************************************
This post is part of a series in the Not So Small Stories hosted by MFA writer and novelist Kirsten Oliphant.