If you would have told me a few years ago that I would be home at 10 pm on a Friday night, every Friday night, I would have laughed.  Not only would I have laughed, but I would have bought you a glass of wine.  Or a beer.  Or a scotch.  I would have leaned over the bar, whispered something to Olaf, and snickered.  My thoughts immersed in watching the clock, I would sit waiting for the sommelier to walk through the phone booth.  I talked to strangers and read my liberal left magazines. Oh, how I miss those days.  Don't get me wrong.  Sommbaby is the most beautiful, intelligent, amazingly aware spirit that could have entered my life.  I love tending to the garden while she plays in the yard, in the water, and in the mud.  She captures my heart, and I would never trade her for anything.
( Photo by the amazing  Serina Sara Sparkman)
But, being a mother is hard.  Being a working mother is even harder.  I thought that once I finished graduate school that things would be easier, life would somehow become magically "perfect"; it was one less thing for me to do every day.  Less reading.  Less typing.  Less  checklists.  In reality, I have found a hole.  A gap in the busy life I used to lead.  I am constantly looking for projects, those which will not only fill my time, but also fill my need to constantly learn and grow.  Surprisingly, this process has become extremely painful for me.  In fact, a large part of me is somewhat sad.
So, tonight I contemplate my new goals in life, organize small projects, set deadlines, and work through the toughest emotions I have had in a while.  What better to nurse me through the ache?  A 2011 Becker Vineyards Viognier.
A rare white grape grown almost exclusively in the Northern Rhone regions of France, Viognier prefers warmer climates with long growing seasons. It's no wonder, then, that Texas is the perfect climate for such a persnickety grape. Assumed a substitute for full bodied Chardonnay, Texas Viognier is round, luxurious, and smooth.  It comes with layers of intense, aromatic complexity, and has a creamy mouthfeel all its own.  Of all the wineries in Texas that produce a Viognier, Becker Vineyards has won the most "street cred" and obtained the optimum shelf space.  This year, Texas Monthly has even named the slightly fruity white a must have.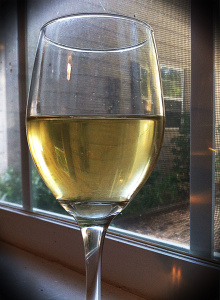 It's a great way to wind down on a smoldering Friday night. After a week of ten-hour days, late day-care pick ups, even later dinners, and midnight laundry sessions, I deserve it.  And so do you.  Aptly priced at $14, it's too much of a value not to give a try.
Go Texan.  Go Local.
Cheers.