It's not very often that the sommelier and I get to spend quality time together, and even less often that we spend an extended period of time all together, as a family. A few weeks ago, however, the sommelier came home and announced that he would not be working on Sunday. I marveled in the possibilities. Would we spend the afternoon at the McNay? Take the little girl to the zoo? Suddenly, there were so many activities in which to partake… and all seemed so apropos.
There was a slight chill to the air that chosen morning, or rather, the slightly less warm breeze that we can sometimes experience here in South Central Texas. The sommelier opened the sunroof, the speakers leaked a mix of Phantogram, Phoenix, and Beirut, and the little girl rested quietly in her car seat. Aaaahhhh. Sunday. We were headed north, driving into the Texas Hill Country, ready to discover some great gems in our own locale.
We opted to first eat lunch at a quaint restaurant in historic Comfort. 814A Texas Bistro occupies the former Comfort Post Office, and serves daily specials of both scratch made soups and fresh seafood. In addition, the menu boasts of an Angus Burger and Pork Hoagie, among others. I chose to start with the house made tomato soup, which was admittedly a little thin, but the grated farm cheese rounded out the flavor nicely. With a direct view into the kitchen from our table, we could watch Chef Millard laboriously sautéing my red snapper, with white wine butter, tomato, and fresh lump crab. The best lunch meal I've eaten in a while, it was served with creamy parmesan risotto and crunchy green beans. The dish was light, flavorful, and perfect for late summer. My handsome lunch date ordered the Angus burger, served on a Kaiser roll with a side of rosemary roasted potatoes and Chef's honey Dijon mustard. The sommelier chose to pair our meal with the 2010 Pine Ridge Chenin Blanc-Viognier, with hints of tangerine, peach, and honey; the balanced acidity did not overwhelm my snapper, and provided equilibrium to the sommelier's Angus. We came upon 814A by happenstance, and we were both pleased with our decision to dine there.
The drive from downtown Comfort to Bending Branch Winery is fairly short. The road twists and turns through the Hill Country, the valleys of burnt Texas grass, overlooking dry creek beds and dusty landscapes. We pulled into the winery: the wine tasting area complete with covered porch and outdoor stone fireplace. The interior of the wine tasting room itself was gorgeous, with a bar consisting of a tree sliced in half, and matching barstools. We were immediately greeted by the lead man behind the bar as we walked through the door. The sommelier nodded in recognition. No surprise. Apparently John, also the VP of Operations, is the lead liaison to wine purchasers in Texas, and has met the sommelier on several different occasions. I'm sure it is by no mistake that this is the first time the sommelier has taken me to the Texas Wine Trail in a very long time. This wine must be fabulous.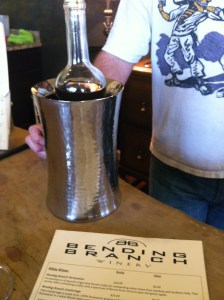 "Two tastings, please." I could hardly wait. It has been since early 2010 that the sommelier took me wine tasting. Now we have the little girl. And even she was pleasantly surprised at her surroundings, researching the bar top, reaching for the wine glasses, enjoying the view of the hills in the distance. It was evident that we would all enjoy the experience immensely.
We first tasted Vermentino, a Spanish grape that is best known for its crisp citrus flavors. It was a nice start, and you could tell that the family winery took great pride in their work. I soon came to find out that the founder of Bending Branch, Dr. Robert Young, has spent many years researching viticulture and enology, and has achieved his winemaker certificate from UC Davis. It is evident that both he and his son-in-law, John ( friend of the sommelier, the VP of Operations, and also a viticulture student), are highly influenced by California and France, and are attune to the Old World Style of winemaking, as evident in their current selection of blends. Every wine we tasted was flavorful, although my personal favorite was the Tannat.
It is no surprise that this varietal stood out among all, especially after learning that Tannat originates from the Bordeaux region of France. Bending branch had two styles of Tannat: one made entirely from the new grape vines here in Texas, and one made from older grape vines brought in from California. Both were delicious, with a dark purple color and an abundance of fruit. We also tasted a Picpoul Blanc, Rousanne, and Petite Sirah. The Picpoul Blanc was also ideal for summer, known as a "lip stinger" due to its bright acidity and tropical flavors. Because both Tannats were completely sold out, the sommelier chose to purchase a bottle of Petite Sirah for our home collection.
The last wine we tasted was the Rose, like the Texas Tannat, completely made from the new grape vines here in Texas. The wine was a perfect complement to the summer heat, a wonderful salmon colored, dry wine that I immediately thought would be perfect for Sunday brunch. Even the little girl thought it had a great nose. At this point John mentioned that the winery was completely green and organic, and I thought: why don't I see more of this wine in our local restaurants?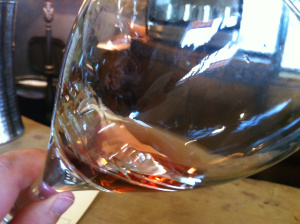 Well, Max's Wine Dive in San Antonio has already beaten the local scene to the punch. You can find Bending Branch wines on their list, as well as at the The Welfare Café, Hugh's on High in Comfort, and 814A Texas Bistro (previously mentioned here). There are rumors of Bending Branch becoming available at some local HEB's very soon. Check out their facebook page or follow them on twitter for more information.
Of course, the sommelier gained access to a tour of the lands and production areas, complete with a barrel tasting of an upcoming cuvee that I am particularly excited about. All in all, we had an extra-ordinary visit to this small Texas winery, and after leaving, I realized that we are so lucky to have such high quality in our own backyard (Bending Branch has the medals to prove it).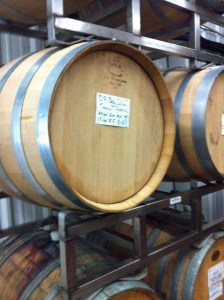 We packed up the little girl, opened the sunroof, pumped up the Phantogram, and drove off towards San Antonio, leaving a spray of dry dust behind us. Aaaaaah. Sunday. I couldn't have asked for a more flawless day.